Tweet
Vincent Damon Furnier (Detroit, 4 de fevereiro de 1948), mais conhecido como Alice Cooper é um cantor e compositor de Rock. Originalmente Alice Cooper era o nome da banda de que Vincent Furnier fazia parte como vocalista, juntamente com Glen Buxton e Michael Bruce nas guitarras, Dennis Dunaway no baixo e Neil Smith na bateria; porém, após iniciar a carreira solo, Furnier trocou seu nome para Alice Cooper. Cooper é bastante conhecido por suas apresentações ao vivo, que frequentemente têm como recurso cenas teatrais violentas e cheias de efeitos de horror e humor, com a finalidade de chocar e provocar o público. Já atuou em filmes, compôs trilha e atualmente apresenta o Nights With Alice.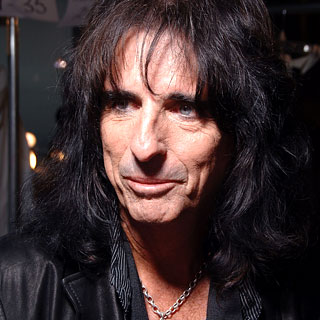 Álbuns:
1969, Pretties For You
1969, Toronto Rock 'N' Roll Revival
1970, Easy Action
1970, Love It To Death
1971, Killer
1972, School's Out
1973, Billion Dollar Babies
1973, School Days The Early Recordings [2009 Remaster]
1974, Greatest Hits
1974, Muscle Of Love
1976, Goes To Hell
1977, Lace And Whiskey
1978, From The Inside
1980, Flush The Fashion
1981, Special Forces
1982, Zipper Catches Skin
1983, Dada
1986, Constrictor
1987, Prince Of Darkness
1987, Raise Your Fist And Yell
1989, The Beast Of Alice Cooper
1989, Trash
1990, The Alice Cooper Show
1991, Hey Stoopid
1991, Science Fiction
1992, Live At The Whiskey A Go Go 1969
1994, The Last Temptation
1995, Classicks
1997, A Fistful Of Alice
1999, Brutal Planet
1999, The Life And Crimes Of Alice Cooper [4 Disc Box Set]
2000, Brutally Live
2001, Billion Dollar Babies
2001, Dragontown
2001, Mascara And Monsters - The Best Of Alice Cooper
2001, The Definitive Alice Cooper
2002, The Essentials [Original Recording Remastered]
2002, Welcome To My Nightmare [Expanded & Remastered]
2003, The Eyes Of Alice Cooper
2005, Dirty Diamonds
2005, HiFive
2005, Nobody Likes Alice Cooper [Live]
2006, Legends(3 Disc Box Set)
2006, Live Montreaux
2007, The Best Of Alice Cooper
2008, Along Came A Spider
2008, Greatest Hits - Steel Box Collection
2009, School's Out [Remastered]
2009, Spark In The Dark - The Best Of Alice Cooper
2010, Alice Does Alice
(Créditos: Pirate Bay)
Não se esqueçam de seguir, indicar, e claro, criticar o blog!
Quem Gostou, comente. Quem não gostou, comente. Quem baixou, comente. Quem tem qualquer opinião, comente! Ajude o blog a crescer e comente suas críticas (: